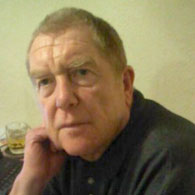 Paul Screeton is a British journalist, editor and author. He has contributed to The Times, The Sunday Times, The Edinburgh Tatler, International Times, Fortean Times and many others. A maverick folklorist and chronic Fortean, he has been a magazine editor since 1969, around the time he first met his friend John Michell. In 1974, Paul Screeton wrote Quicksilver Heritage, a pioneering survey of the Earth Mysteries movement. His book John Michell: From Atlantis to Avalon came out in 2010.
Paul Screeton has had a strong interest in Fortean phenomena since age eleven when he witnessed a daylight disc UFO. From then on he read voraciously and widely. His career as a journalist began when, as a student at Hartlepool Grammar School, he rebelliously wrote an article for the local newspaper defending the idea that the ancient Britons were not the crude brutes as claimed by his schoolteachers, who were suitably antagonized. This initiated a long career in regional journalism, working at the Hartlepool Mail as a reporter, feature writer and deputy sub-editor. The home territory of Paul Screeton is northeast England, where he and his wife Pauline have been living since 1969 in Seaton Carew, overlooking the North Sea.
His books include The Lambton Worm and other Northumbrian Dragon Legends; Crossing the Line: Trespassing on railway weirdness; Mars Bar and Mushy Peas: Urban legend and the cult of celebrity; I Fort the Lore; and Quest for the Hexham Heads. As a magazine editor, Paul Screeton revived The Ley Hunter in 1969 and edited it until 1976. In 1985, he founded Folklore Frontiers magazine, now also on Facebook. He is chairman of Friends of Seaton Station.
John Michell: From Atlantis to Avalon
(
Heart of Albion
, 2010) is a tribute to the man and his work, rather than a strict biography ("and a cracking good read" – John Neal). Chapter five, "Confrontations and Reconciliations", focuses on John Michell in terms of social classes and unpopular causes and surveys his Radical Traditionalist papers –
That Great Cock, Rushdie's Insult; The Hip Pocket Hitler; Souvenir Programme for the Official Lynching of Michael Abdul Malik; Stonehenge: Its Druids, Custodians, Festival and Future
; and others.