"DANCING WITH PLATO AND FORT: CROP CIRCLES, COSMOLOGY AND ANCIENT METROLOGY"
I would like to apologize for being a bit late in posting anything about the John Michell Symposium. Sponsored by Temenos Academy, it took place at the Art Workers Guild in London on the 1st of June. The next morning, I found myself in something of a work crunch, with about five short deadlines to meet.
It was a good event. Fewer people came to this symposium than to the first one, but that was not too surprising. Feeling was running very high in 2010, with the death of John Michell very fresh in people's minds and hearts. With this symposium, we are moving into another phase, with less emphasis on reminiscence and more on evaluation. It is a natural process. Temenos Academy, an educational charity co-founded by Kathleen Raine and Keith Critchlow, is an excellent sponsoring organization for this purpose. Altogether, about 70 to 75 people came to the second symposium and the event was in the black. I intend to organize another one, but probably not for two or three years.
With almost no budget for photography or filming, we relied on volunteers. Rob Stephenson, the chairman of RILKO, stepped forward to provide a few photos of the speakers and the reception, which appear on this page. John Thomas kindly stepped forward to do some filming. The results of this are still in process and when ready will appear free on this site.
Professor Keith Critchlow, our special Guest of Honour, who had spoken at some length and in a very inspiring way at the first symposium, was not feeling well enough to speak at the second. Although certainly disappointed, most of us can understand his absence in consideration of his venerable age. He sent in a little hand-written note that I read aloud:
"I'm sorry not to be able to be with you. John and I did much unpublished work together which will eventually emerge. John was a gentle person, the word 'gentleman' would be very appropriate, yet he loved to shock people occasionally. He had a comprehensive mind and has done so much to bring the Pythagorean philosophy back into its timeless focus. John, much beloved, your work was of the greatest importance. You are, and will be, well remembered. Keith"
During a break later in the day, the author Robert Temple, who was present with his wife Olivia, remarked on the tantalizing mystery of the unpublished work mentioned by Keith. Thinking back, I remember that in 2010, Keith had also mentioned this unpublished work with John Michell. So I guess we just have to wait.
The programme of the day was more or less adhered to. Speakers included Christine Rhone, John Nicholson, John Neal, John Martineau and Allan Brown. As a non-scheduled plus, we had the presence of California architect Steve Wilmoth, an old friend and associate of John Michell's, who showed pictures of his geometrical paintings and constructions during a break. As a non-scheduled minus, we were unable to stream the film "Levy on Michell", because the internet connection at the Art Workers Guild is unpredictable and it was not working. That film however is available here. As a venue, the Art Workers Guild is very beautiful and very historical and very centrally located. John Michell, I feel, would have loved its resolutely un-technological quirkiness.
The premiere screening of the 16-minute film "Best Foot Forward: A Discussion on Ancient Metrology with John Neal and Professor Michael Vickers" came toward the end of the day and was much appreciated. This was recently filmed at Oxford University by Jonathan Adams and me. I wish I had a spare 100K to invest in something longer, perhaps a full-length feature documentary on ancient metrology and its relationship to geodesy. I would like to see computer graphics to explicate and illustrate the concepts of metrology colourfully and kinetically. Metrology and geodesy when seen together make perfect sense.
At the end of the symposium, I read out a poem of Kathleen Raine's, short as a haiku:
"I've read all the books but one
Only remains sacred: this
Volume of wonders, open
Always before my eyes."
After the day's proceedings, many of us took a short walk to an evening reception at the Atlantis Bookshop, where we enjoyed the friendly hospitality of Geraldine and Barley Beskin, good conversation, and generous refreshments of wine, cheese and assorted nibbles.
I would like to thank Temenos Academy, the Atlantis Bookshop, all the symposium speakers and everyone who took part.
Christine Rhone
All photos courtesy of Rob Stephenson, chairman of RILKO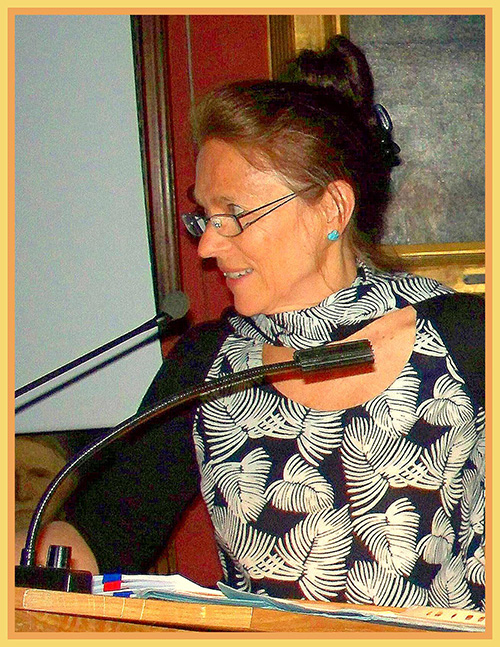 Christine Rhone organized and presented the second John Michell Symposium in collaboration with Temenos Academy. Sheis the co-author with John Michell of Twelve-Tribe Nations and the translator of Jean Richer's Sacred Geography of the Ancient Greeks and other books. A contributor to Temenos Academy Review, she is a former student of the Beat poet Diane di Prima.
"Michell and Sheldrake: the 1992 International Crop Circle Making Competition" was the title of the talk given by Christine Rhone, who worked with John Michell on The Cereologist magazine and the Crop Circle Making Competition. The competition was the concept of author and biologist Rupert Sheldrake, who contacted The Cereologist to organize it.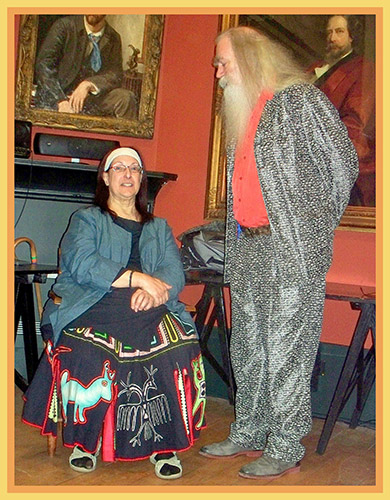 Celia Boggis has collaborated on a long string of books, booklets, pamphlets, papers, publications and many other projects with her husband, John Nicholson, for many years. It was thanks to Celia's skills as a typesetter and other support work that many publications from the early seventies to the present have seen the light of day and were touched by Celia's good cheer and heart.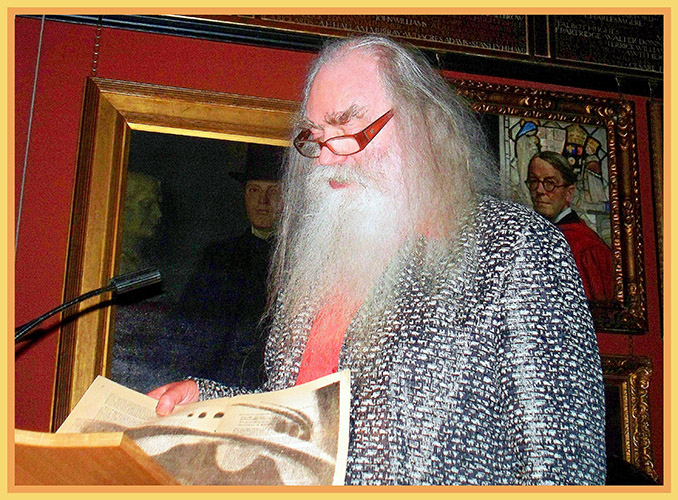 The title of John Nicholson's talk was "What on Earth? Why listen to John Michell?"
John Nicholson was a friend and colleague of John Michell's from the early 1970s when they worked together on many projects. These included some of The Radical-Traditionalist Papers, the first reprint of Feng Shui by Eitel, the Anti-Metric Board and The Fanatic. His monograph about John Michell is called An English Figure. He is currently chair of the John Michell Club.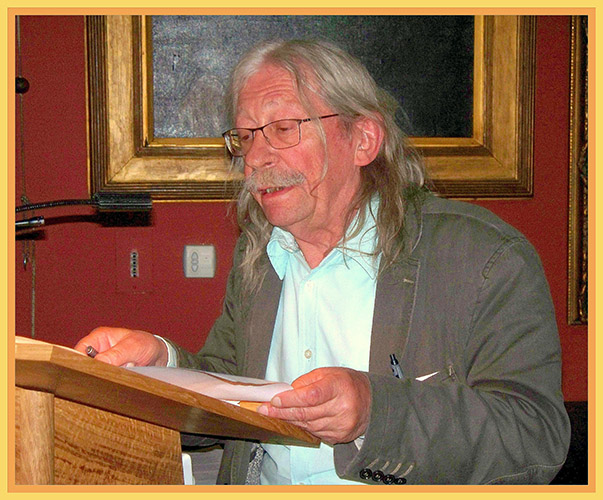 The subject of John Neal's talk was "Michell and Me: How we Cracked Metrology". In 1980, John Michell wrote a brief and highly condensed book called Ancient Metrology: The Dimensions of Stonehenge and of the Whole World as therein symbolized. Taking off from this, John Neal went on to mine the whole mother lode of systems of ancient measure.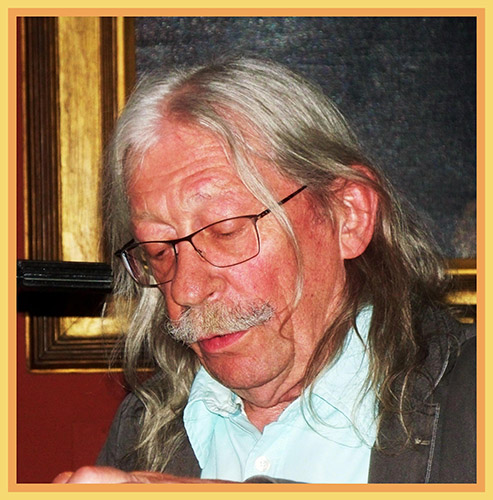 John Neal is the author of several books including The Structure of Metrology and All Done With Mirrors. These reveal ancient metrology as a coherent and unified system. Professor Michael Vickers, of the Ashmolean Museum and Oxford University, called these findings "a major contribution to the history of science" in his review for Nature in 2001. A new short film shows Professor Vickers and John Neal in conversation on ancient metrology.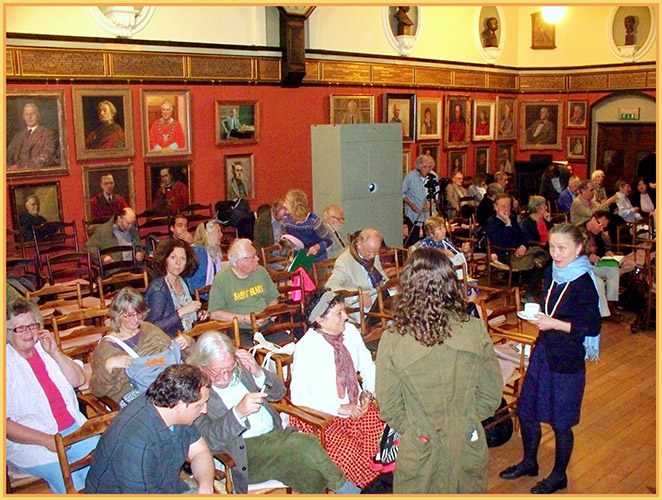 During a break in the symposium, guests mingle in the lecture hall of the Art Workers Guild filled with paintings and historical detail. The leading lights of the Arts and Crafts movement founded the Guild in the 1890s in a spirit of idealism and the unity of all the arts. "May we be guided by Truth, May we have Beauty revealed to us, and may it result in good" is a Pythagorean invocation composed by Keith Critchlow.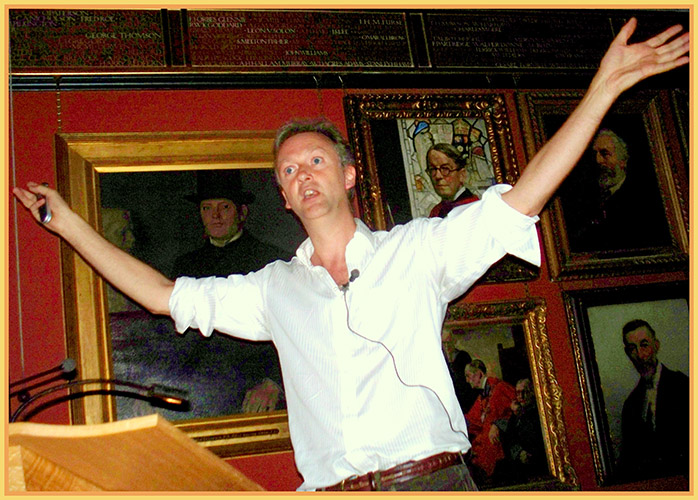 The title of John Martineau's talk was "What is the Universe Up To?" While most of the speakers at the second John Michell Symposium were collaborators or continuators of John Michell's, John Martineau is instead a former student of Keith Critchlow's at what is now the Prince's School of Traditional Arts. John Martineau stands in the wider stream of neo-Pythagorean and Islamic geometric art, analysis and application.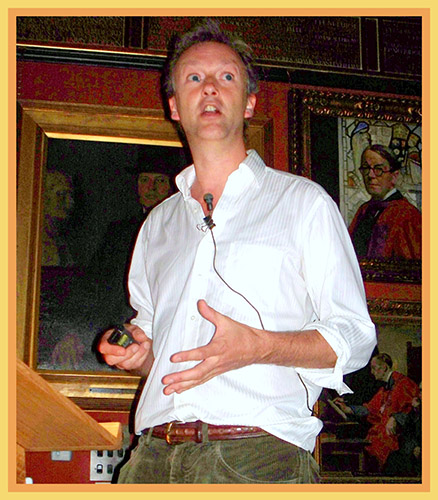 John Martineau is the publisher of the award-winning international Wooden Books series, producing books that are both elegant objects and condensed communication on subjects largely neglected or minimized by the mainstream. He is also the author of A Little Book of Coincidences in the Solar System, which takes the concept of the harmony of the spheres speeding well past Kepler and into the little-known geometries of the planets and their orbits, revealing coincidences that seem to hint at a conscious universe.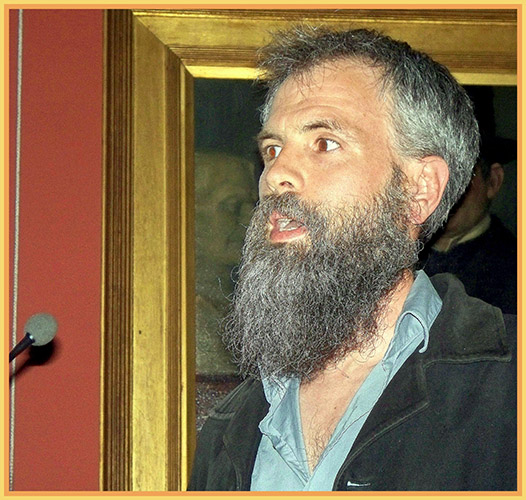 The title of Allan Brown's talk was "How the World is Made was Made". Allan Brown is a geometer, an illustrator, a designer and a musician. He also loves gardening and organic fruits and vegetables and so he is Secretary of the Brighton and Hove Allotment Federation. Allan has worked with John Michell on two books. These are Crooked Soley: A Crop Circle Revelation and How the World is Made, completed only weeks before John Michell died.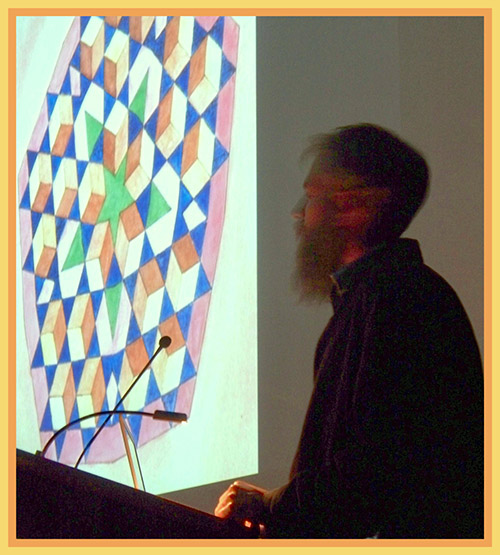 A big and highly illustrated book, How the World is Made is a summation of John Michell's vision – it tells the creation of the world as a geometrical story. Visually, it combines watercolour paintings by John Michell and many computer graphics by Allan Brown. Speaking of the hand-drawn in contrast to the digital images, John Michell said, "In the hands of an artist the computer is an artistic medium".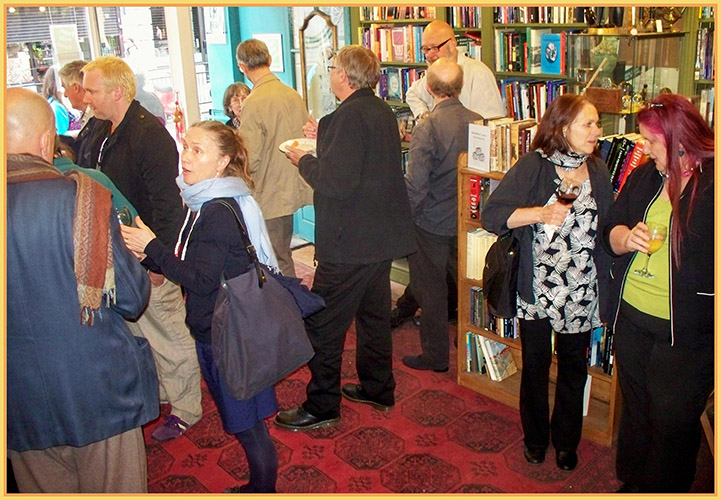 The evening reception was hosted by the Atlantis Bookshop, London's oldest independent occult booksellers, which started in 1922. It is located at 49a Museum Street, a pedestrian street perpendicular to the front entrance of the British Museum. The Atlantis Bookshop hosts art exhibitions, talks, book launches and classes. It is run by Barley Beskin, whose mother Geraldine is a researcher, writer, speaker and workshop leader.